Menu
InAzia lunch sets
Chicken Satay & Duck Set Up
Grilled Chicken Satays With Peanut Sauce And Mixed Lettuce
-
Crispy Duck With Ginger Bok Choy And Plum Sauce
-
Octopus & Shrimps
Octopus Marinated In Ginger With Crispy Salads
-
Shrimps With Red Curry With Eggplant & Thai Basil
-
Lunch menu
Appetizers
Grilled Chicken Satays With Peanut Sauce And Mixed Lettuce
-
30
Grilled Shrimps With Marinated Cucumber, Ginger And Mixed Lettuce
-
38
Grilled Beef With Vegetables, Spicy Chili Sauce And Mixed Lettuce
-
42
Pot
Tom Kha Kai With Chicken, Galangal & Coriander
-
25
Tom Yum Kung Soup With Shrimp And Coriander
-
25
Wok
Thai Style Fried Noodles With Shrimps
-
35
Thai Style Fried Noodles With Duck
-
39
Cod With Thai Basil & Chili
-
55
Sweets
Philadelphia Cheesecake With Cherries And Ginger
-
20
Caramelized Banana Tart With White Chocolate Crumble
-
20
Create your favourite 3-course dinner
Appetizers
Shrimp salad ∙ mango ∙ pomegranate · delicate chili sauce
-
Salmon tartar ∙ green chili ∙ cucumber · avocado
-
Crispy squids and asparagus with spicy mayonnaise
-
Vietnamese rolls with vegetables and tofu · chili sauce
-
Spicy beef salad · mushrooms · coriander papadum
-
Duck soup with ramen noodles
-
Thai fish soup with vegetable and basil
-
Main Courses
Roasted with ginger cod · bok choy · teriyaki sauce
-
Steamed salmon in rice paper ∙ wok vegetables
-
Shrimps ∙ udon noodles ∙ red curry
-
Chicken satay ∙ fried rice ∙ coconut
-
Duck ∙ tangerine sauce with chili
-
Beef noodles · baby spinach · ginger & chili
-
Tofu marinated with kimchi · roasted sesame
-
Desserts
Ginger tart with mango & chili · mango sorbet
-
Philadelphia cheesecake with cherries and ginger
-
6-Course Menu
Grill
Tuna · Lemon · Passion Fruit
-
"Served with: Prosecco Di Valdobbiadene
Pan
Octopus · Chili · Majo
-
Served with: Pounamu Special Selection Sauvignon Blanc Marlborough
Pot
Coconut Milk · Shrimps · Coriander_x000D_
-
Oven
Langusta · Herbs · Curry
-
Served with: Pinot Grigio Santa Margherita
Wok
Beef · Beans · Ginger
-
"Served with: Castello Monaci Piluna DOC Primiviti di Salento
Pastry
Coconut Cake · Chocolate · Mango
-
Served with: quince liqueur infused with ginger
Appetizers
In Menu
Fine De Claire Oysters (3pcs) · Green Chili & Coriander Vinaigrett
-
60
New in menu
Shrimp Springrolls · Mango · Coriander · Sweet Chili
-
45
Seafood Dim Sum · Soy Caviar · Crispy Garlic
-
45
New in menu
Marinated Octopus · Ginger · Crispy Lettuce
-
60
Tuna Tataki · Lemon Grass · Mint · Passion Fruit & Chili Vinaigrette
-
78
New in menu
Spicy Tuna Tartar · Cucumber · Avocado · Coriander · Papadam
-
56
Scallops Wonton Dumplings · Calabash · Plum & Chive Sauce
-
60
New in menu
Soups
In Menu
Lobster Soup · Coriander Oil
-
48
Tom Kha Kai With Chicken · Galangal · Coriander
-
35
Tom Yum Kung Soup With Shrimp · Coriander
-
45
Duck Soup · Ramen Noodles
-
40
New in menu
Salads
Salads
Algae · Sesame · Marinated White Turnip
-
35
Grilled Shrimps · Citrus · Candied Coconut
-
45
Grilled Chicken · Peanut Sauce · Shrimp Chips
-
35
Beef · Crispy Lettuce · Thai Spicy Sauce
-
45
Wok Street Food
Classic Wok Street Food
Gaeng Keow Wan Kai
-
48
green chicken curry
Gaeng Phed Ped Yang
-
56
red duck curry
Duck Noodles
-
55
thai style fried noodles · duck
Pad Krapow Gai
-
48
spicy chicken · thai basil
Kai Med Ma Muang
-
48
chicken · cashew nuts
Pad Thai
-
55
thai style fried noodles with shrimps
Beef Black Pepper
-
75
fried beef · vegetables · fresh black pepper
Tao Hoo Tod Kratiem Prik Thai Dum
-
44
fried tofu · garlic · black pepper sauce
Sushi
In Menu
Sushi Sushimi 4 Pcs
-
45
salmon · tuna · shrimp · eel
Sushi Nigiri 4 Pcs
-
45
salmon · tuna · shrimp · eel
Futomaki 4 Pcs
-
45
tuna · philadelphia cheese · lettuce shrimp · tempura · spicy mayonnaise salmon tartar · avocado salmon · ginger philadelphia cheese · cucumber
Hosomaki 6 Pcs
-
45
cucumber łosoś· shrimp · vegetables in tempura
Fish Main Courses
Seafood
Jumbo Prawns (2pcs) · Curry Sauce · Lychee · Chili
-
175
Crispy Scallops (6pcs) · Garlic
-
125
Snails (6pcs) In Spicy Sauce · Shitake Mushrooms · Mint · Ginger
-
88
Squids With Chili · Garlic · Thai Basil
-
58
Grilled Langoustine Tail · Garlic Sauce
-
235
Fish
Grilled Turbot · Wok Vegetables & Sauces: Curry, Garlic-Pepper, Teriyaki, Thai Spice
-
165
Whole Roasted Dorade · Herbs · Sukiyaki Sauce
-
140
Tuna Marinated In Lime · Bamboo · Shimeji Mushrooms · Fish & Mango Sauce
-
158
Side Dish
Broccoli With Soy Sauce & Cripy Onion
-
15
Beans · Bok Choy · Spinach
-
15
Meat main courses
In Menu
Beef Steak · Sugar Peas · Green Pepper Sauce
-
135
Crispy Duck · Ginger Bok Choy · Plum Sauce
-
85
Lamb · Oyster Sauce · Spicy Eggplant · Bok Choy
-
155
Pork Ribs Marinated With Honey · Thai Bbq Sauce
-
75
Side Dish
Broccoli With Soy Sauce & Cripy Onion
-
15
Beans · Bok Choy · Spinach
-
15
Curry
In Menu
Duck • Red Curry • Lychee
-
60
New in menu
Beef Chicks • Green Curry • Eggplant
-
55
New in menu
Chicken • Yellow Curry • Pineapple
-
45
New in menu
Lamb • Indian Curry • Cherry Tomatoes
-
60
New in menu
Vegetarian
In Menu
Ramen Noodles · Tofu · Vegetables · Coriander
-
42
Fried Rice · Eggplant · Crispy Onion · Chili
-
42
Green Vegetables · Thai Basil · Curry
-
44
Fried Tofu · Garlic · Black Pepper Sauce
-
44
Desserts
In Menu
Sweet Asian Journey
-
35
coconut mousse with pistachio · chcolate & chili tart · mango cake · cheese mousse & cherries
Mango Tart · Yoghurt Mango Ice-Creams
-
29
Chocolate Cake With Banana Caramel And Chili
-
29
Coconut Mousse · Pistachio
-
29
Philadelphia Mousse · Cherries · Ginger
-
29
Choice Of Ice Cream And Sorbets
-
29
ice cream with salted caramel, mango, pineapple, green tea, coconut, pistachio
Inazia Restaurant Menu
InAzia restaurant has won the recognition of customers who value the Far East's original flavours. Our restaurant is renowned for its exceptional seafood and finest meats, prepared and served in traditional ways. The highest quality of ingredients and Asian spices chosen by our chef guarantee an unforgettable culinary experience.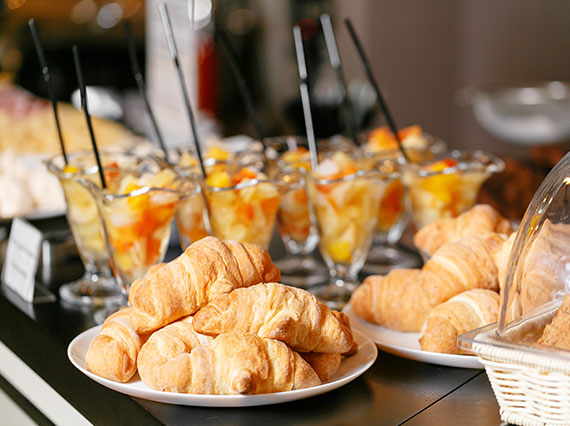 The Cuisine Experience The Flavours Of Asia
"InAzia restaurant serves unique and extravagant specialities of South-East Asian cuisine created by our Chef Marcin Sasin. Our menu abounds with sophisticated dishes which are a cross-section of flavours and aromas of the distant Orient. It includes Thai, Chinese and Vietnamese dishes, as well as rarities from the Indonesia and Singapore region. The dishes at InAzia restaurant are prepared and served in a traditional manner - exactly like in the best restaurants in Bangkok, Tokyo and Singapore. The uniqueness of our dishes is due to the highest quality of their ingredients: only fresh, original items and spices like lemon grass and coriander, as well as popular Asian cuisine sauces (teriyaki, sweet chilli and lemon chilli). InAzia restaurant is famous for its unique, delicious seafood and meats, primarily wagyu beef and duck. Our experienced waiters are more than happy to help you find the ideal accompaniment from our collection of wines and champagnes. Based on the culinary 'stamp' of South-East Asian countries, the way of serving appetisers and main dishes at InAzia restaurant offers all our guests the opportunity to share several dishes. We serve our guests a selection of treats on rotary plates, in small pieces or slices; and if you prefer you can eat with chopsticks. Thai cuisine is considered one of the best and most original cuisines of the world because of its use of original spices and pastes. This cuisine can be distinguished from other Asian countries by its spices and aromas."
Specialities of InAzia Restaurant:
"TOM KHA GAI A traditional spicy Thai soup with chicken and coconut milk, it is one of the most popular dishes in our restaurant. The soup's spicy flavour is gently soothed by the coconut milk. Tom Kha Gai is light and refreshing and every Far East cuisine lover will find his/her favourite flavours in it."
Specialities of InAzia Restaurant:
"CRISPY DUCK With green vegetables and hoi sin and sweet chilli sauces. Peking duck is one of the flagship Chinese dishes at InAzia restaurant; but here we have gone several steps further - we recommend the crispy duck, sliced, with the hoi sin's sweet-spicy taste."
Specialities of InAzia Restaurant:
"PAD THAI Thai fried noodles with shrimp and peanuts. In Thailand you can eat it anywhere; at stalls, in the street and on almost every street corner. Due to its popularity it appears in many options, often with meat: chicken or pork, or as a vegetarian dish."